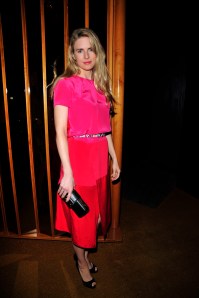 A few hours after the premiere of her film Another Earth, the young star and co-writer Brit Marling, who has porcelain features and a significant amount of  talent, stood on the top roof deck of The Standard hotel in a bright fuchsia-red dress, flicking her eyes at the monstrous view of Manhattan and the sky.
"We were thinking a lot about doppelgangers, meditating on that idea, and fascinated by it," she said to The Observer. "And somewhere along the line it came up that, what if you can make it literal, visually literal, where all 6.3 billion people on this planet could be on another one."
We both looked up, as if to expect to see that other planet identical to ours bobbing huge in the air — as it did throughout Another Earth, which debuted to raves at Sundance and made its New York premiere last night at the Landmark Sunshine.
The 27-year-old Ms. Marling, who began writing the film with director Mike Cahill shortly after graduating from Georgetown, plays Rhoda Williams, a young woman recently released from a four-year stint in jail for killing a man's wife and son in a drunk driving accident.
Mr. Cahill, like the audience, is entranced by Rhoda. He nimbly presents her walking in puffy jackets and snow caps through New Haven, or stripping down and lying on ice in hopes of suicide, or scrubbing bathrooms at a high school, or simply staring, with glassy eyes,  at the ocean, a field and the dirt road location of the accident.
Looming over Rhoda's malaise, and her eventual romance with the man who's life she destroyed, is that Other Earth, one identical to ours. The film, then, is ostensibly science fiction, but it's paced and presented in a way that it never feels like it.
The party commenced after the screening, in the Boom Boom Room, and it went until late, when Ms. Marling, cast members, family, friends, and the members of Vampire Weekend all took to the deck for cool air and a place to smoke. Before Ms. Marling left to find her parents, we asked about the end of the movie, which — and this doesn't give anything away — leaves a lot of room for interpretation.
"Oh, we don't talk about the end," Ms. Marling said, brushing back her hair. "But Mike has a good sense of when to start things and when to stop things."