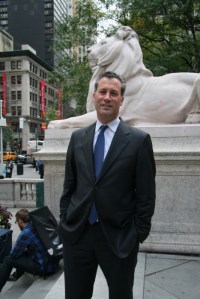 Anthony Marx, the new president of the New York Public Library, starts his new job today. Dr. Marx is from New York. He attended P.S. 98 and the Bronx High School of Science, then Wesleyan and Yale. He has a PhD in Politics from Princeton, where he wrote his dissertation on black politics in post-apartheid South Africa. He also started a prep school there.
According to the Times, he then he founded the Columbia University Urban Educators Program, which recruits teachers to work in urban public schools. He has served on the board of Teach for America.
Before his return to New York, Dr. Marx served as president of Amherst College in Massachusetts, where he set records for fund raising. He arrives at the library at a time when it has only recently dodged a giant $40 million budget cut — $36.7 of it was ultimately restored — but how we will manage the transition to digital books and more possible funding cuts in the future remains to be seen.
He routes for the Mets.