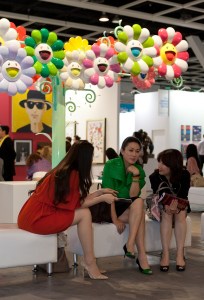 "The proliferation of fairs is ridiculous," New York dealer Dominique Lévy, of L&M Arts, says in the latest edition of The Art Newspaper. "They will strangle each other in the end." Ms. Lévy goes on to argue that the comprehensive services that galleries provide—shipping, framing, insurance, and so forth—will guarantee that they will outlive the current vogue for fairs.
Ms. Lévy's come in a recap of a recent study of the art market by the nonprofit dealers' association Cinoa (Con­féd­ération Internationale des Négociants en Oeuvres d'Art) that suggests galleries are losing some of their power to online ventures and art fairs. The complete, fascinating study is available here. Here are some of the highlights:
The top two to five percent of art dealers account for more than half of the sales in the market.
In 2010, aggregate sales in the art and antique markets amounted to approximately €43 billion, split roughly equally between auction houses and dealers.
The "average" dealer sells only about €60,000 worth of art each year, a remarkably low number that was determined based on the fact that a full 375,000 people identify as dealers worldwide.
In the dealer market, men outnumber women 56 percent to 44 percent.
At "top-tier auction" houses, women outnumber men by the exact same margin.
There are now more people in the Asia-Pacific region than the West with $1 million or more of investable assets.
Given that last statistic, it is going to be interesting to see how many new galleries sign up for the 2012 edition of the Art HK fair, which is increasingly considered to be the most prestigious fair in Asia, especially following the news that Art Basel had purchased a 60-percent stake in it.