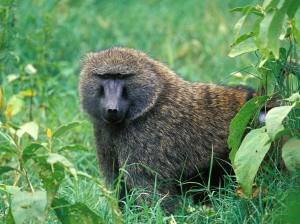 A "special team" at Six Flags Great Adventure was outsmarted by an "elusive baboon" on Friday, according to the Asbury Park Press. He was spotted running through Jackson, New Jersey throughout the day and managed to escape being tranquilized. The baboon went missing on Thursday and has avoided capture from both police and Great Adventure's "special team." The baboons live in an outdoor facility called the Monkey Jungle and, according to the article, are not counted each night. Obviously, we hope that the baboon gets home safely without hurting anyone, but that said, boy howdy are there some funny quotes in this article. A couple gems:
-"We can't say for sure where this baboon came from, but we are probably certain that it is ours."
-"Wherever the baboon is going, it is just unfortunately lost."
-"It's moving quickly and we are trying to keep up with the animal at this point." (That one comes from a police spokesman).
-"They were really looking for any clues like paw prints or tracks. But they didn't find any of the signs a baboon had been around."
Hey, baboons are fast and kind of scary. The wild terrain of New Jersey is no place for a lost little primate.