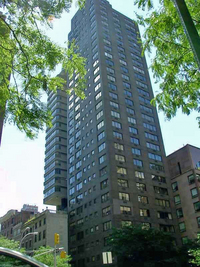 Jack Resnick & Sons made its name building some of the city's top office towers before transitioning to residential development in recent decades. Now run by one of those sons, Burt Resnick, the family knows real estate, which must mean 733 Park Avenue is a heck of a building.
Mr. Resnick and his wife Judith have just purchased a full-floor apartment on the building's 27th floor for $8.8 million, according to city records. The couple, who currently live in Rye, bought the co-op from the estate of Ann Oestreicher. Records show that Oestreicher, who passed away last year, had lived in the apartment  since at least 1974.
Mr. Resnick took over as CEO of the company in 1971, and in the wake of the Madoff scandal, he confirmed that he was one of the fallen financier's clients.
It is hard to know what exactly attracted the Resnicks to their new home, since it was never officially listed, but judging by the neighbors, who would not want to live here? Carter Horsley remarks of the 1971 building that "layouts are impressive and grand, although the 8-foot-11-inch-ceiling heights were a bit above average, but not extraordinary." Judging from the other units, the typical spread is three bedrooms and 4.5 baths spread across 3,400 square feet.
As The Observer previously reported, a Carolyn S. Brody recently bought a 20th-floor apartment for $8.2 million and late last month Peter W. Schweitzer bought a 14th-floor apartment for $5.9 million. There are 28 total in the building, and the only other on the market is one on the third floor, asking $7.3 million.
The listing for Ms. Brody's apartment describes "stunning South views of the Empire State Building and skyline, and East views of the lovely landmarked buildings on Park," so no doubt Mr. Resnick has even better views seven floors up. Fromthere, he can probably keep an eye on most of his Manhattan empire.