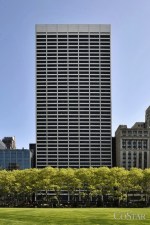 In one of the biggest law firm deals this year in New York, intellectual property specialists Kilpatrick Townsend & Stockton has taken 45,000 square feet at the Grace Building at 1114 Avenue of the Americas.
The deal, which comes six months after Kilpatrick Stockton merged with Townsend and Townsend and Crew, allows the legal practice to now double its size from its current 22,500 square feet at 31 West 52nd Street, brokers said. At the 49-story, Brookfield Office Properties-co-owned Grace Building, the firm will occupy the entire 21st floor and a portion of the 22nd.
They expect to relocate near the end of the year, said Studley's Ken Ruderman, who represented the tenant in the transaction.
"We were strategic in our approach, canvassing the market 18 months ahead of Kilpatrick's lease expiration in order to time the relocation with the expiration," said Mr. Ruderman of the firm, which is now among the 70 largest legal practices operating in the U.S. "Because we were proactive, we were able to successfully create an opportunity with Brookfield that resulted in an ideal transaction in one of midtown's premier buildings."
jsederstrom@observer.com