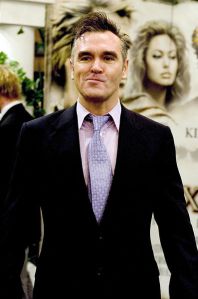 The boy with the thorn in his side is now the boy with a dog bite in his side.
Perusing Morrissey fanzines is usually an uneventful part of our morning routine, but today True To You brought some troubling news. A dog in England went after the Smiths singer, mauling his hand and arm. Heaven knows he's miserable now, miserable now that he has a fractured index finger.
Will he cancel shows over the injury? Not a chance — dogs can't stop Moz, they can't stop him even if they think they've heard this one before.

"The cracked bone is at the tip of the finger," the True To You post reads. "The injury will not affect upcoming shows. Morrissey is delighted with the news that tickets for the London Palladium sold out in five minutes."
"Please, please, please let me get what I want — a rabies shot," Morrissey might have said. The dog apparently didn't even care that meat is murder. He tried to eat Morrissey's hand.
This awful dog. He never wanted to kill, he was not naturally evil, but the dog bit. And to bite by your side is not such a heavenly way to bite.
OK, we'll stop. That joke isn't funny anymore.