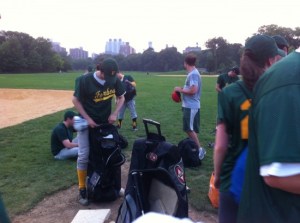 Last weekend was a bad time to be Rupert Murdoch. Not only did he shutter British tabloid News of the World after the phone hacking scandal reached epic proportions, but The Wall Street Journal's champion softball team lost a highly anticipated game…to a bunch of stoners.
The High Times Bonghitters and Journal Capitalists duked it out for first place in the league. Dazed and confused they weren't: High Times was up 10-1 after three innings, when the Journal rallied with eight runs. The late game stimulus proved to be too little to late for the newspaper. High Times won 12-10.
Elsewhere, league newcomer Forbes trounced public radio powerhouse WNYC. The broadcasters took a dive after a short winning streak that included a 15-1 win against Newsweek/The Daily Beast, losing 10-3 to recently reorganized league newbies money mag. Music biz writer, Jay-Z biographer, and team co-manager Zack O'Malley Greenburg pitched until "his arm got tired" midway through the game. A raccoon passed by the Central Park field, eliciting the vague hope from WNYC that it would be a good omen. It wasn't.
Earlier, High Times' Bonghitters celebrated a double-digit win against Vanity Fair's Veefers. The Marijuana trade mag beat out Graydon Carter's glossy 16-1.
A sunglass-clad Hamish Robertson, the magazine's online design editor, pitched low as his wife, writer Andi Teran, slapped at mosquitoes from the sidelines. High Times refused to swing until their pitching demands were met; a wide, manipulative strike zone they demanded. This resulted in Mr. Robertson and catcher Rebecca Sacks essentially playing a game of catch while a Bonghitter bided his time.
"They play junk ball," said one Bonghitter, who explained that the term refers to pitching underhand hoping that the batter gets bored enough to swing. Seems that Mr. Robertson underestimated the Bonghitters not-negligible tolerance.
Two spectators wandered over, lured by the aromas…of baseball. After The Observer informed them who was playing, they went to the appropriate side–with lit up faces.
Despite a brief scuffle breaking out as a High Times outfielder closed in on the dirt for a female hitter, the tension had dissipated by the end of the game. The teams shared an only somewhat proverbial peace pipe and spoke of games past, those they could remember.
ksmoke@observer.com | @kbsmoke