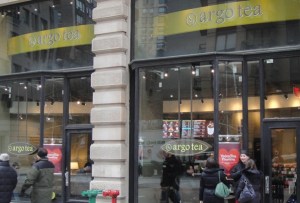 Reports of a hostage situation near the Flatiron Building started breaking moments ago on Twitter. Reports of bomb disarming robots, swat teams and cops on the roof of the triangle-shaped building are materializing by the second. Update: the suspect, who barricaded himself in an apartment near 22nd and Broadway, is now in police custody.
Update 2: Via WNYC, the suspect in question is now in police custody after being led away in handcuffs by the police. WNYC also reported:
A person barricaded himself inside an apartment near the Flatiron building after contractors working on windows at the location called police because they were being "menaced" by a tenant who may have a gun, police said.
The Argo Tea Cafe, which is located at 949 Broadway, between 22nd and 23rd Street had to evacuate their customers for about 30 minutes, a spokesperson for the company noted, prompting erroneous reports on Twitter that the situation was taking place there. They are now back open for business.
The Flatiron building houses book publishing company Macmillan (which owns Henry Holt, Farrar Straus and Giroux, and St. Martin's Press) is tweeting about safety warning. A few Tweets about it:
"Police activity around the Flatiron. Warnings to stay away from the windows;

risk of gunfire yet

?"

"I DON'T EVEN KNOW!!

I didn't even get John's "stay away from windows" memo! Are they shooting AT the

flatiron

??"

ksmoke@observer.com