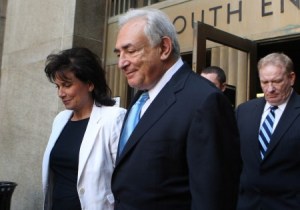 As reported by the New York Times last night, today, the Dominique Strauss-Kahn case reconvened today, and the former IMF chief was released from his bail on his own recognizance. He must only promise to appear in court, as the charges against him have not been dropped. More on the press conference and future of the case, after the jump.
This was not in the New York Times report last night, and this is not going to help the prosecution:
"She actually recounted the entire story to prosecutors and later said it was false."
And in the NY Daily News this morning:
"'The DA's office has concluded she materially misled the grand jury,' said a source close to the case. 'The case has gone to hell. It's a wreck.'" They also note that a perjury charge against the accuser is a possibility.
From the press conference, being carried live:
Zero Hedge notes that the current press line of Dominique Strauss-Kahn's only defense left being that of consensual sex "is a lie."
Prosecutor Kenneth Thompson noted during the press conference:
"When the victim walked into that suite she did so for one reason – to clean the suite. The victim here may have made some mistakes, but that doesn't mean she's not a rape victim." And later, explained that his client told him: "I will go to my grave knowing what this man did to me. I have nothing left now. I am going to come out and tell the world what Dominique Strauss-Kahn did to me.
At one point, the BBC had to stop carrying Mr. Thompson's press conference because of "the explicit nature of the lawyer's comments."
The New York Times has released the letter from prosecutors to the defense team.
Mr. Strauss-Kahn walked out of the courtroom with his wife, Anne Sinclair. He was smiling as the couple got into the car, and drove away.
fkamer@observer.com | @weareyourfek