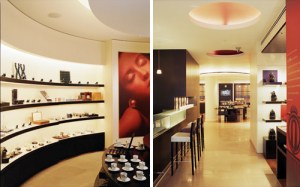 Last night Champagne was the beverage of choice at Nespresso's Madison Avenue salon. After a special preview of the Royal Shakespeare Company's As You Like It, the Young Patrons of Lincoln Center gathered for cocktails and canapés.
The crowd, composed almost exclusively of  financiers under thirty,  hobnobbed around the stainless steel espresso machines, sharing Shakespearean sentiments.Young couples walked around and dreamed about adding Nespresso contraptions to their wedding registries while singles mingled with other arts-loving eligibles.
Waiters deftly made their way through the narrow showroom with trays of crab cakes, tartar and goat-cheese topped watermelon squares.
Soon, the prim party was bustling with loud British voices…The actors had arrived. We noticed a man peering through tinted ray-ban eyeglasses wearing a patterned blue shirt open far below the accepted American buttonhole and decided he must either be a pimp, a European or a thespian. It was, in fact, a European thespian by the name of Clarence Smith who played Duke Senior in the performance.
We attempted to make an introduction, only to notice Mr. Smith was juggling a champagne glass and another drink. "You can tell I'm a Britt, I have drinks in both hands!" exclaimed Mr. Smith. The performance was held at the Park Avenue Armory in a replica of the Royal Shakespeare theater in Stratford-upon-Avon.  The full-scale model theater, Mr. Smith claimed, shows "what you can get done with a little bit of British know-how and a lot of American money." We commented on the mod venue. "Yes there seem to be all these little bijouuuuuux around New York," Mr. Smith observed.
We left the Nespresso's boutique gem around midnight. While bankers were preparing to leave with their Lily-Pulitzer clad girlfriends, champagne corks were still popping, barely audible above the jovial din.