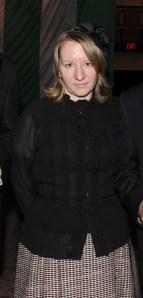 Carrie Kania, senior vice president and publisher of It Books and Harper Perennial at HarperCollins, is departing HarperCollins to work as an agent at Conville & Walsh Literary Agency in London. Reached by phone in Wisconsin, where she was visiting family, Ms. Kania said that her departure from HarperCollins was amicable, and her move was about fulfilling a dearly held childhood dream to live in England. No word yet on her replacement.
"Moving to London has been a life-long dream and HarperCollins has been wonderful, kind, generous and supportive of letting some kid try to make her dream come true," she said, adding that she had a giant Union Jack hanging in her bedroom as a child. "I've done Bright Lights, Big City so now I want to do Brideshead," she said.
Ms. Kania has been at HarperCollins since 1999 and has presided over Harper Perennial since 2005, when then-CEO Jane Friedman decided to relaunch the brand as more than a passive re-publisher of the house's hardcover imprints.
Ms. Kania is credited with having revamped the paperback imprint by reviving lost gems from the depths of the HarperCollins backlist, as well as making the imprint a destination for first-time authors. In 2009, she was named to lead a new HarperCollins imprint, It Books, inaugurating the everything-but-the-boring-parts "entertainment, music, fashion, design, art, celebrity, pop culture and sports" imprint that has produced 13 New York Times bestsellers, including Sh*t My Dad Says and Sammy Hagar's Red.
As far as the list Ms. Kania intends to build at Conville & Walsh, she said it would be "similar to the books that I've loved and championed at Harper."
The path from publishing to agency work has recently been a two-way street, with The Wylie Agency's Scott Moyers recent return to Penguin Press and Larry Kirshbaum's dissolution of his agency to helm Amazon Publishing in New York. Steve Ross made the move from HarperCollins to the agency side after HarperCollins ended its Collins imprint in 2009.
Here's our 2008 profile of Ms. Kania, published just a few months before It Books was born.