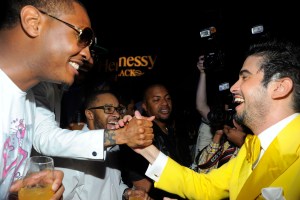 "I only really party when I'm in New York or Italy," said Kirstie Alley, between puffs on a cigarette, sitting on the dock next to the naval ship Intrepid. "And I've been in New York for a while now," she finished.
The Transom was floating on DJ Cassidy's 30th birthday party; for this summer's rendition—the last one ever, the nightlife-famous DJ claimed in the invite—he draped the boat's ballroom in black velvet and served up enough Hennessy to fill the river it's floating in.
Maybe Mr. Cassidy senses his own star fading, but by midnight, the venue was at capacity. If it sounds like a classic New York club fire hazard, it was: at midnight, a fleet of New York's Bravest showed up in full gear, boarded the boat and walked past the immobile airplanes to the giant hall. No one noticed.
"Get your Hennessy on, girls!" Mr. Cassidy yelled from the stage, screaming his party's liquor sponsor dutifully. He was wearing a canary-yellow suit, standing next to former Lindsay Lohan paramour Samantha Ronson, who was juggling an arm's load of vinyl. "Come on! Come on! Come on!" repeated Mr. Cassidy. After a "surprise" performance from New Edition—yes, that New Edition, nostalgia-invoking rap producer Swizz Beatz showed up with a giddy Carmelo Anthony. Swizz was coming from playing a Paper magazine party with Joe Jonas.
"Yeah, I seen him there," Swizz noted of the Jonas brother, an unlikely fellow performer for the hip-hop producer. "I love music, man. Anybody that can be a phenomenon, it's impressive."
And no matter, the nuances of fame: there is Hennessy to be drank. Swizz walked into the crowd with the Knicks star, pumping his fist to one Michael Jackson song after another, unlikely to look back.