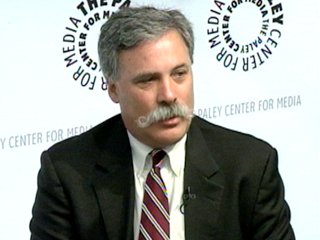 As Rupert Murdoch stands in danger of everything from his news empire crumbling further into scandal or being pied, the names of potential successors to the CEO seat are already being floated through the rumor mill. One that keeps coming up is an obvious pick: Charles "Chase" Carey, President, COO, and Deputy Chairman of News Corp. And he is a Budweiser man.
Surely, you will hear about Mr. Carey and his admirable facial hair in weeks to come. The basics: He's 57 years-old; he's a Colgate and HBS graduate who has worked for Rupert Murdoch twice. The first time was from 1988 – 2003, during which Mr. Carey alongside Peter Chernin helped bring Fox Sports Network and Fox News Network to fruition. From 2003 – 2009, Mr. Carey served as the CEO of DirecTV. In 2009, Mr. Murdoch took him from DirecTV and installed him as President and COO of News Corp. Most importantly, from an LA Times piece that ran earlier this year, he is a beer drinking man:
A native New Yorker, associates say that Carey's idea of the perfect night is a six-pack and a Yankees game. Unlike Chernin, who enjoyed the glitz of the entertainment industry, Carey ducks the limelight and seldom pops up on the fundraiser and award show circuit. "His favorite beverage is Budweiser," said David Hill, the chairman of Fox Sports. "I've said, 'Have a red wine, it's embarrassing, we're in a good restaurant, people will think we're civilized.' "
Emphasis ours. Also, Mr. Carey is a former Rugby player, which would help in the event that he needs to fend off pie-throwers, or Wendi Deng's ambition to come first in the line of succession. Either/or. And now you know.
fkamer@observer.com | @weareyourfek