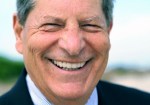 Queens County Conservative Party Chairman Tom Long told The Politicker this afternoon that his party has all but made up their mind on who their candidate will be in the race to replace Anthony Weiner in the 9th Congressional District.
"Mr. Turner is our candidate, he will be getting our endorsement," Long said. "And hopefully Republicans will do the same."
With the announcement last night that Eric Ulrich will not be a candidate for the Republican nomination, Turner, who got over 40 percent of the vote in a race against Weiner in 2010, quickly became the front-runner for the Republican nod as well. Long said that Ulrich hadn't met with Queens Conservative leaders (recall that he didn't meet with Republican ones either).
Long added that Turner told him that he was confident that he would receive the G.O.P. nod, but would consider running on the Conservative line regardless.
But still, the Queens Conservatives jumped out early for Turner, making their decision last week.
"Mr. Turner, number one, he ran last year and got 41 percent of the vote, he ran a very credible campaign. Number two, and more important, his conservative credentials are impeccable. He believes in everything that we stand for, and vice versa, which I cannot say is true for all candidates," Long said.
The party will meet officially on Saturday to certify that Turner will receive their line.