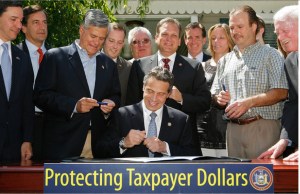 Governor Andrew Cuomo signed what he called the toughest property tax cap in the nation, as part of his vow to end New York's reign as the "tax capital of the nation."
That has put pressure on local governments who say they will be hard-pressed to raise revenue they need to fund the services they provide and keep staffing at their current levels.
Let it not be said that Cuomo's office is completely inflexible when it comes to giving localities the discretion to tax residents.
Today, Cuomo's office announced he signed into law a slew of bills extending a 1 percent  increase in sales and "compensating use" taxes at the county level. (Most are renewals of increases to local taxes that have passed previously. Some, though, are new, like Herkimer County's additional 1.25 percent.)
The taxes Cuomo signed today are all set to expire in November 2013, days before the start of the new year when Cuomo will seek re-election.
The bills had the support of their respective county legislatures, who needed state approval to change their local tax rates.
Fiscal analyst EJ McMahon said Cuomo's authorization of these tax increases is in no way inconsistent with his other tax policies. McMahon said the fact that these modest additions to local county sales taxes are up for renewal is an "artifice."
The counties "would be raising or extending these sales taxes regardless of the property tax cap," McMahon told me. He also said many of these tax increases had been renewed for years, if not decades, by governors of both parties.