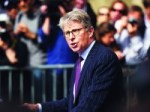 In the days after word leaked that Manhattan district attorney Cy Vance was preparing to drop the charges in the most conspicuous case of his career, the fallout was mostly muted. Despite the emotional nature of the Dominique Strauss-Kahn rape allegations—poor African woman, rich white man—few observers wanted to second-guess a prosecutor, and fewer elected officials wanted to make an enemy with subpoena power.
Until Sunday. At his office uptown, State Senator Bill Perkins of Harlem stood alongside a rainbow-colored battering ram—The Coalition of a Hundred Black Women, Muslim Women Lawyers for Human Rights, Women in Islam, Inc, National Latinas Caucus, National Organization for Women, the African National Congress, the Council on American Islamic Relations, etc.—and proceeded to hammer Mr. Vance in front of dozens of reporters overflowing into a spillover room.
"I believe that if he hears from the community," Mr. Perkins said, "it will help him be more decisive. The wavering that is happening in the media is not a healthy thing."
"I am here to make sure that the district attorney does the job that he was elected to do," he added.
Unseating a sitting D.A. borders on the politically impossible. Robert Morgenthau, Mr. Vance's predecessor, served 35 years, into his 90s. His predecessor, not including a brief stint by an interim prosecutor, served 32 years. But with Mr. Vance suffering through as bad a stretch as one could imagine for a sitting district attorney, the vultures are circling overhead, and political observers are wondering if he suddenly finds himself vulnerable to a challenge—just two years after winning one of the nation's most high-profile law enforcement jobs.
Mr. Vance's troubles began long before the Sofitel Hotel was known for anything other than luxury lodgings around Times Square. There was the acquittal of the two Manhattan police officers accused of rape. There was the high-profile indictment of two terrorism suspects on relatively weak charges, without the support of the F.B.I., after a state grand jury rejected Mr. Vance's recommendations. And there were the acquittals in the Deutsche Bank fire, splashed across the front of the Daily News. Last week, even Alan Dershowitz piled on, criticizing Mr. Vance for failing to provide his family with a surveillance video after his sister-in-law was struck and killed by a postal truck.
And, as the case against Mr. Strauss-Kahn was falling apart, Mr. Morgenthau—whose support vaulted Mr. Vance from a little-known local lawyer who had spent 15 years in Seattle to front-runner status in 2009—was noticeably silent. Six days after Mr. Strauss-Kahn was released from his house arrest, Mr. Morgenthau piped up, delivering a statement that contained far more praise for the Office of the District Attorney than it did for Mr. Vance personally.
In 2009, Mr. Vance won the Democratic primary with just 44 percent of the vote, but secured the backing of all of the elements necessary to win a borough-wide race: African-Americans, good-government types on the Upper West Side, finance types across the park and in Tribeca, and the city's legal community.
The next electorate is expected to be markedly different from the one that sent Mr. Vance to 1 Hogan Place two years ago, when the district attorney's seat was one of the more prominent races in an otherwise sleepy campaign season. In 2013, a crowded mayoral primary and a half-dozen competitive City Council races could increase the pool of uninformed voters who pull the lever for the incumbent based on name recognition, or it could inspire a legion of engaged voters arriving at the polls with an ax to grind.