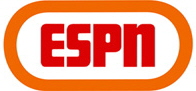 It's not quite playing video games on acid, but it'll do: Deadspin just got their hands on ESPN's 2010 Editorial Standards and 2010 Advertising Standards manuals. What's in the Worldwide Leader's ethics guide?
As Deadspin's Tommy Craggs so succinctly puts it:
"Editorial Guidelines for Standards and Practices" is the official name, though that's only because "Fifty-Some Pages of Corporate Gently Reminding You Not to Fuck Up the Brand" is a little too on-the-nose.
For an ESPN-torturing website—such as Deadspin is—this is a pretty decent get that will surely get better with age, though at the very least, certainly serves as a reminder of just how stiff things are in Bristol and Beyond. In the advertising standards manual, there's an entire section on when and where condom advertisements can run. They also highlight the section in the editorial standards regarding brand names appearing in stories:
Any time a product or brand name appears in our stories, we are treading on dangerous ground. Even if the mention appears to you to be innocuous, it will attract the close attention of the people behind that product or brand. This does NOT mean we keep brand names out of stories. It DOES mean that we must consider whether a brand name needs to be in a story. In most cases, it does not, and in fact should not.
Emphasis ours. A news outlet being so distinctly persnickety about brand names is, as ESPN is, a distinctly corporate (read: advertiser-sensitive-to-the-touch) positioning. Also of interest is their guideline on social media, namely for talent and reporters:
Personal websites and blogs that contain sports content are not permitted.
and
Steer clear of  engaging in a dialogue that defends your work against those who challenge it and do not engage in media criticism.
Also, that whole thing about avoiding that which isn't in "good taste" and "lurid language," which would make for a good time with Grantland—see: 'Weed Smoking Dogs'— except, they're apparently exempt from these standards.
Of particular charm is the picture on the Deadspin post of editor A.J. Daulerio reading the guidelines on the toilet, though in all fairness, they do make for excellent supplementary reading for anyone diving into Those Guys Have All The Fun, the much-ballyhooed 745 page oral history of ESPN unleashed on the public to rave reviews. If anything, Deadspin will probably get more mileage out of these as a great guide to finding out where the bending points of ESPN's ethics policies are, which is always a pretty illuminating thing to see.
fkamer@observer.com | @weareyourfek