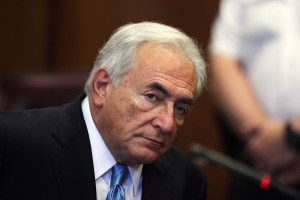 The big news this morning was that the case against the case against Dominique Strauss-Kahn appeared to be in disarray–his accuser, a maid at the Sofitel, was said to be an unreliable witness. He's already been released from house arrest!
And yet the New York Post headline this morning was uncharacteristically dour. "DSK CASE BOMBSHELL"–are they sad that the case is maybe coming to an abrupt end? That Mr. Strauss-Kahn's name lends itself less easily to phallic punnery than Anthony Weiner's? We've decided to help the Post out with a few suggested headlines for tomorrow that make use of the more typical, lowbrow/brilliant-ish puns:
FRENCH TWIST!
"MAID" TO "DISORDER"
GONE TO "POT" [the maid, recall, had been arrested for possessing 400 pounds of marijuana]
SHE'S A "PHONE"-Y! [she also had five phones?]
UP BY HIS BOOT"STRAUS"
"STRAUSS" RELIEF [pun on "stress relief]
"SOFIT"-BALL QUESTIONING
SOFITEL IT ON THE MOUNTAIN
YES HE "KAHN"
"KAHN" YOU FORGIVE HER?
DOMINIQUE-TRICKS [pun on "dominatrix." "Dominique" is a hard word with which to pun. Maybe the professionals know what they're doing.]