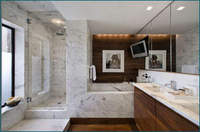 Looks like Adam Lippes, founder of the ADAM clothing label, will need to find some new closet space. The designer has just sold his West Village penthouse at 37 West 12th Street.
The buyers, lawyers Bryan Skarlatos and Elena Karabatos, will reap the benefits of living in a detail-oriented designer's former pad. The apartment's centerpiece is the dining room, which features hand-painted silk wallcovering. The living room, however, includes "A commanding calacatta marble fireplace [that] anchors the south facing living room," writes Corcoran broker Roseann Barber.
A wrap terrace with bronze inlay and planters is accessible from every room in the apartment. A guest bathroom, enshrined in white marble, adds to the gaudy glamour. The living room includes black walnut cabinets which slide to expose a flat-screen TV.
The designer purchased the apartment in 2005 for just $2.6 million, but put in on the market in 2007 for $7.99 million. The price was chopped over the past four years, finally selling this month for $4.465 million.
eknutsen@observer.com