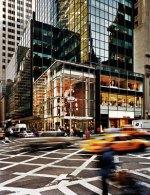 Lois Weiss at The Post has a sensational real estate scoop for the fashionistas about town:
[Dolce & Gabbana] just leased a massive 18,400-square-foot store at 717 Fifth Ave., taking over the space from Escada, which will move within the same building into smaller digs along 55th Street.
The stores are a portion of a retail condominium owned by deal maestro Jeff Sutton and real-estate investment trust SL Green Realty Corp. Sutton, who orchestrated both deals, previously moved out Hugo Boss and installed Armani/AX in the north portion of the space. No other brokers were involved.
Dolce already has a store on Madison, but this would be its first spot on prime Fifth. The deal, apparently, is worth $300 million, making it easily one of the biggest retail transactions of the year so far.