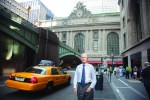 It was shortly before the economic collapse that the owner of 116 John Street in the financial district turned to Stuart Gross for answers.
Long an office building with ground-floor retail, the roughly 80-year-old high-rise had slouched to such epic deterioration over the decades that it had been recategorized as Class B, or maybe even C—hardly a designation to brag about. With such a state of disrepair, the new owner, Hacienda Intercontinental Realty, had no sure opportunities for refinancing, nor did the firm want to sell the property outright, Mr. Gross recalled.
Instead, the veteran real estate broker offered a third and potentially riskier solution for the owners: enter into a joint venture with a well-capitalized developer and convert the building to residential.
"It was torturous for a while as you might imagine," said Mr. Gross, 58, of the earliest negotiations between his client and its potential new partner, Nathan Berman of Metro Loft. "In a situation like this, where the owner is going to contribute the asset, you have issues of valuation for starters, but you also have issues of control."
But with the 35-story tower expected to begin leasing some 418 new apartments as soon as next year, and many of its former office tenants now relocated elsewhere in the city, real estate observers agree that Mr. Gross's bet, albeit risky, was prescient indeed. For the Atlanta-born former Arthur Andersen C.P.A., however, the complicated assignment was typical of the challenging deals he has finalized over the past eight years.
With a specialization in investment deals—which have included the $10.3 million sale of the Hazelden addiction treatment center at 231-235 East 17th Street in 2006 and the $225 million sale of an East Harlem portfolio comprised of 48 residential buildings in 2007—Mr. Gross has racked up dozens of transactions with an eye toward the deals involving equity, debt and tax-sensitive assets.
In 2007, for example, Mr. Gross worked on behalf of the developer at 101 Ludlow Street, which had been used as retail. In the transaction, the building owner, Charles Blakeman, negotiated a 40-year lease with an option to buy with the School of Visual Arts, which had been hunting for dormitory space in a neighborhood, not unlike the Lower East Side, that would reflect the art school's decidedly hipster demeanor.
It was one of the rare occasions when Mr. Gross acted as a leasing broker, a position that, despite the complexities, seemed to suit the agent just fine. To be sure, in an assignment entangled in transactional challenges, he executed a leasing deal with terms that, in many ways, mirrored his typical sales trades.
"I was thrilled with the opportunity to execute that long-term lease with S.V.A. because ultimately what they wanted to do was fix their cost per bed," Mr. Gross said. "And so the school had the opportunity to have a build-to-suit for them, and so it was configured to their specifications; and they liked the idea that somebody else was going to incur the capital to build it and take that risk of construction. So they basically had a turn-key proposition when it was time to move in their students."
It was 30 minutes into The Commercial Observer's interview with Mr. Gross at his office earlier this month that we inquired about his accent—a melodic, soft-spoken Southern drawl that seemed to all but ooze from his vocal chords. After a short beat, he claimed the Bronx as his birthplace, then laughed.
"I don't know why, but this accent just doesn't go away," he drawled dulcetly. "I've met so many people up here who are Southern who just have no vestige whatsoever. You'd never know with them, but, whatever: I'm a 'twanger.'"
In fact, Mr. Gross was born and raised in Atlanta but was drawn to a sort of redoubt of the Northeast upon being accepted to Duke, where he earned a distinction in economics. After returning to the Peach State for his master's, he accepted work as an accountant for Arthur Andersen. That was in 1977, a full decade before new tax laws were introduced that put a tight cap on shelters that protected many of his clients, including the real estate developers he was working for.
That accounting position, which gave him an opportunity to rub shoulders with many of Atlanta's most successful developers—including a few whom he continues to speak with—led to his transfer to Washington, D.C., where he soon became a partner at the firm.
"That was back in the era when tax accountants were the heroes of the real estate industry because we could come in and structure ways for these guys to never have to pay the taxes, so they loved us," recalled Mr. Gross, who left the firm in 1996, six years before the company unraveled under the weight of the Enron scandal in 2002. "We might have been the geeks or the eggheads, but they loved us anyway."
It was while he was in D.C. that Mr. Gross met a young ingénue with whom he began to collaborate on a number of small student housing and residential projects. Later, under the name Urban Development Services, his investment firm oversaw adaptive reuse projects. Within a short time, that endeavor led to another excursion overseas, where, in Poland, the duo took full advantage of the Berlin Wall's collapse four years after the fact by investing in a flurry of housing demands in the region.
"What I like to do as a broker grew out of my experience as a developer," said Mr. Gross, who continues to operate assets in Georgetown and a 200,000-square-foot property in Poland as the founder of UDS. "As developers, we're basically taking a space and adapting it to a new functionality, which means something entirely different than what the use is in the current context."
But it was his career choices in neither Washington nor Poland that led him to Eastern Consolidated. Instead, it was while he was in Durham, N.C., that Mr. Gross met the firm's chairman, Peter Hauspurg, who had been his fraternity brother at Duke.
"We've known each other for about 35 years," said Mr. Gross, the father of a grown daughter who now lives on the Upper West Side. "Actually, he and I have been friends, colleagues and business partners for a while. He invested with me in Poland."
Ever since joining Eastern, he says, the complicated deals he's structured have required the very precise trifecta of skills he's accumulated throughout his tenure as an accountant, developer and, since 2002, executive manager director and principal.
"I've always been involved and always been interested in figuring out ways to bring the interests in the property, in the financing and taxation, and in the ownership to an optimal structure," Mr. Gross said. "So I've been involved in this same business throughout the entirety of my career—it's just that I'm wearing a little bit different hat."
jsederstrom@observer.com