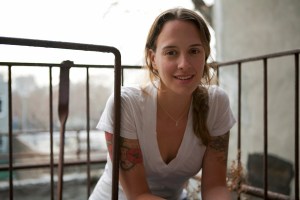 The Transom recently learned that Emily Gould—former employee of publishing house Hyperion, blogger at Gawker, memoirist, and New York Times Magazine cover-writer—is setting out on a venture with close friend Ruth Curry to sell e-books, online, through an e-tail site called Emily Books.
Readers with long memories and obsessive streaks might recall Ms. Curry as Ms. Gould's supportive best friend in Ms. Gould's New York Times Magazine cover story about life on the Internet. They shared a secret blog about relationships! And it was Ms. Curry who recently emailed publishers at OR Books, an independent publishing concern that prints books on demand and specializes in e-books. Company co-founder John Oakes told the Transom that Ms. Curry's email read in part: "Our goal is to be super-specialized and targeted and to build an audience that trusts us."
"I hate the phrase no-brainer, so I didn't say that, but why is anyone even pausing about it?," said Mr. Oakes, who accepted the offer.
A point of clarification: the curated site will feature a small number of hand-selected books, including the poet Eileen Myles's Inferno, published in November 2010. (Ms. Gould has written about Ms. Myles for the Poetry Foundation, and called her "a voice of reason and a voice of courage.") EmilyBooks.com is registered to Ms. Gould; its front page currently features four slots for selling products, occupied by placeholder images of sneakers. "Soon there will be content here, and it will not be about shoes," reassures the site's blog.
Ms. Gould declined to comment for this story.
"She sure as hell, obviously, is a pro at marketing," said Mr. Oakes, who hadn't yet met or corresponded with her. Had he read her memoir, And the Heart Says Whatever? "No. Thanks for the recommendation. I'm writing it down."
ddaddario@observer.com :: @DPD_