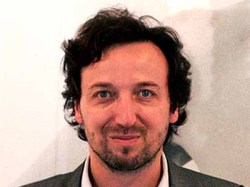 There is a very candid interview today with Parisian art dealer Emmanuel Perrotin in The Art Newspaper. Mr. Perrotin, who represents Takashi Murakami, Maurizio Cattelan and Sophie Calle among others, was hit hard by the recession like everyone else and had to close his Miami branch in 2010 after six years of business. He mentions having initially defined success through money, but also points out how skeptical he believes France is of "success" (he claims cyclist Raymond Poulidor's popularity was a result of him always coming in second).
Plenty of dealers will talk about how they used to care about the money but it's about the art now, but Mr. Perrotin explains quite honestly how he wished Damien Hirst would have stuck around after the dealer gave him his first show in 1991.
But only six months later, he had become really well known so while it had gone very well between us, I was just starting out and didn't have any money for him to produce works. So of course, he went elsewhere, it was natural. The exhibition for Damien did more for me than it did for him so I've never reproached him for anything. The only thing I regret is not being entrusted with more of his works at that time—just one would have represented two years of turnover for me during the more difficult years.
Keep in mind that this was after the bubble burst in the art world, as galleries were closing all over the world. Gallery-switching was happening feverishly at this time, with smaller, well-respected galleries losing artists left and right to Gagosian and Pace.
Mr. Perrotin and Mr. Hirst were set to collaborate again in 2011, but it is no longer happening. Here's what Mr. Perrotin had to say about that:
He very generously suggested re-doing the exhibition 20 years on. He had some ideas, but after 20 years, I wanted to do something that was a real renewal of Hirst's career, rather than works that people were more used to. I had wanted people to go "Wow! This series is wonderful," so in the end I decided against the show. Maybe I was wrong. Other galleries are good at doing certain projects to enable the financing of others. Sometimes I think I should have brought in the money, been attacked by the Paris critics, but then financed more ambitious projects for other artists. Maybe if I am lucky, he will offer me another project.
He goes on to talk about continued financial setbacks, including not opening another space in Paris, as he had planned, and not being able to open shop in Hong Kong, despite being one of the early champions of contemporary Asian art. As an upside, he said he's buying more storage space.
The best question, of all, though, is, "How do you feel about being called 'Gagosian a la Francaise?'"
"On one level it's a compliment," Mr. Perrotin says, "But on the other I know people are insulting me!"