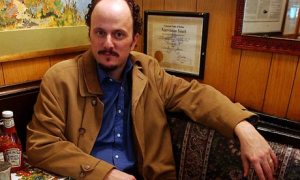 Before Jeffrey Eugenides was attacked on a Princeton-bound train by a man singing a ditty about his genitals, the author of Middlesex was having a pretty nice boys' night out.
"We'd had an outstanding celebratory dinner at Marea," Farrar, Strauss & Giroux president Jonathan Galassi—his date for the evening—told The Observer. "Then I dropped Jeff off at Penn Station."
The dinner, at Central Park South's ritzy seafood mecca, got quite celebratory indeed. The receipt obtained by The Transom shows that the duo started out with a bottle of La Castellada ($95) and carried forth with the pricey, scaly stuff. The typical Marea four-course prix-fixe runs $91 per person. In total, the duo's bill came to just over $520.
Seriously, what didn't they have? Waiters served dishes of Sogliola (sole), Ono (wahoo), Sgombo (mackerel), Seppia (cuttlefish), Dentice (snapper) Baccala (salt cod) and Ricci (sea urchin), alongside a heaping of spaghetti and a spread of cheeses. After, Macluan Torcolato dessert wine cleansed the pallet, and then Campari cocktails eased their literary minds.
What a shame that the night had to be ruined by a drunk fixated upon the Middlesex author's nether-regions! As a train carrying the author bounded south of Manhattan, an assailant harassed the passengers in the car with shouted obscenities. After he refused to stop, Mr. Eugenides grabbed at his phone, and promptly got socked in the side of the head.
"I was happy that chivalry is not dead on N.J. Transit, and that it should be alive and well in Jeff Eugenides," said Paris Review editor Lorin Stein, whose publication was the first to excerpt The Virgin Suicides, back in 1990.
The author attended a private reading in his honor at the lit journal's offices last Thursday despite the black eye and cut-up mug.
"Oh, he looked dashing," Mr. Stein told The Transom. "I would have ran with it, but I don't usually get in fist fights."
The publicist for Mr. Eugenides said he would rather not comment on the affair.
And what's become of the man crooning about his naughty bits? Some sources told The Transom that the man has been arrested. On Twitter, the handle "@cyberhack7" sent out a message claiming to be the infamous attacker, and did so because Mr. Eugenides wrote a David Foster Wallace-esque character into his new novel, The Marriage Plot. "i should have beaten him to death but i didn't have time," he said.
Regardless of who and where this guy is, though, it's pretty clear the train was better off without him. "Jeff told the story in a very self-deprecating way," Mr. Stein said, "but, as my sister said, he's a hero."