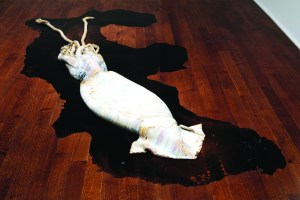 A giant squid lies on the polished hardwood floor of Hauser & Wirth gallery's Upper East Side townhouse. How did it get there?
That is a long story. But first: it is not a squid. "This is not an illustration," said artist David Zink Yi. "When you look at it, I want you to see an amazing sculpture."
Indeed, what artist, after Magritte made his famous 1929 painting of a pipe—accompanied by the words "This is not a pipe"—would refer to artworks as anything other than artworks? The problem is that this sculpture is so eerily realistic. Walking into the gallery, you encounter the 16-foot-long, beached creature, its opalescent, slick-looking flesh seeming to putrefy, lying in a puddle of its own ink. You expect its tentacles to quiver in a final death-throe.
In late June, Mr. Zink Yi, a muscularly built man in his mid-30s, wore a tee shirt and shorts as he and an assistant lifted one section of the heavy ceramic squid—it weighs 660 pounds—and slid out from underneath it the lengths of fabric they'd used to move it.
Making the squid required Mr. Zink Yi, who is based in Berlin, to get a coveted four-month residency at a facility in 's-Hertogenbosch, the Netherlands, that houses the world's largest kiln. As he explained how he experimented with arbitrary combinations of colors to create an iridescent effect, he prepared the squid's ink, a cocktail of corn syrup and Japanese ink that he mixed in a garbage pail, and gingerly dribbled around the sculpture.
The ink may make the sculpture all the more squid-like—Mr. Zink Yi prefers to think of it as a frame—but it also serves a practical purpose as a moat: it discourages people from stepping on the sculpture. And yet, Mr. Zink Yi's assumption that no one would want to get near the viscous-looking substance is not always right: when he showed a similar squid at the Art Basel fair last month, a visitor left a trail of black footprints leading away from the sculpture.
What led Mr. Zink Yi to make the sculpture is a saga well suited to our globalized times. Born in Peru to a mother who is half Chinese and half Peruvian, and a father who is half Italian and half German, he faced an enviable decision in 1991, when he was 16: he could either move to Kenya with his family or study in Europe. He chose the latter, and initially trained to be a chef. After becoming disillusioned with cooking, he began a course in woodcarving, then switched to art school in Berlin, where he studied under conceptual artist Lothar Baumgarten.
Then he fell in love. Not with a woman—though that happened too—but with music. In 2001, he traveled to Cuba, and began studying conga drums with Jose Luis Quintana, known as Changuito, one of the members of the band Los Van Van. "The best thing that happened in my life," Mr. Zink Yi said, "was when I began to play congas with him. He was sitting with me and I was playing, and then suddenly he looked at me and he told me, 'Don't get excited.'"
What did he mean by that? The Observer asked.
"When you play music," Mr. Zink Yi said, "you have the feeling like, 'This is great!' He wanted me to be more controlled. He was telling me, 'It's about the form. Keep the form, not the feeling. If you don't keep the form, you will never reach the feeling.'"
For five years, he spent as much time as he could in Cuba. He formed a band. He made a long video artwork documenting musicians playing. "So many of these things I was trying desperately to find in art and it was so hard to produce them," he recalled. "In music it was just there."
Eventually, he returned to Berlin, and to sculpture. His dealer, Ivan Wirth, asked his band to play a party in Majorca. Like many Cubans who leave the island, they decided not to go back; now the band plays in Berlin.
Mr. Zink Yi's artworks investigate both the formal qualities of things, and what people refer to as magic, or myth. A few years ago, he followed a biologist friend into the jungles of south Peru, on a search for the harpy eagle. (In his research, the friend recounted to Mr. Zink Yi, he'd only been able to spot the bird after reaching out to the local shaman, and integrating himself into the community.) A video and text artwork upstairs from the squid, at Hauser & Wirth, recounts the trip.
But back to the squid. Why a squid? Reading the philosopher Vilem Flusser, Mr. Zink Yi decided that with anatomical features so different from humans—like bioluminescence, a built-in flashlight for navigating the ocean's darkest depths—it was the perfect image of what in cultural studies is referred to as "the other."
But, again, this is not a squid. It is an artwork about the process of making artworks, and the very nature of sculpture itself, its symbolic potency. "What I enjoy," Mr. Zink Yi said, "is this kind of alchemical situation in converting this garbage of nature, which is a huge metaphor for many things."
sdouglas@observer.com