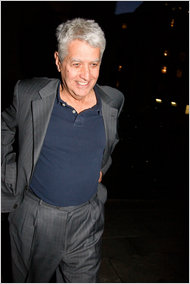 Ralph Esmerian, the former owner of the jewelry company Fred Leighton and one of the leading collectors of folk art, was sentenced Friday to six years in federal prison for fraud charges. Mr. Esmerian must also pay $20 million in fines.
Mr. Esmerian, a former board president of the American Folk Art Museum, used double-pledged or already-sold collateral to secure $210 million in loans to purchase and operate Fred Leighton. He plead guilty in the Southern District Court of New York in April to wire fraud, bankruptcy and concealing assets.
Mr. Esmerian sold a variety of jewels at Fred Leighton including a Duchess of Newcastle diamond brooch and a gilded album commissioned by Marie Antoinette in 1781. He purchased the business in 2005 using millions of dollars in loans from Merrill Lynch. The company filed for bankruptcy in April 2008. Mr. Esmerian allegedly continued to wire money from sold collateral into his personal bank account after that. The Observer wrote about Mr. Esmerian in an article about the Museum of Modern Art's purchase of the Folk Art Museum's building on 53rd street. He was the museum's chief benefactor for two decades.