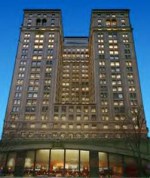 The New York Blood Center has closed two separate deals for office space near Grand Central Terminal and in Union Square.
The nonprofit renewed for five years at 853 Broadway in Union Square. The 2,700-square-foot office is used for HIV prevention research and medical trials. "What was very important to the [center] was to have people being familiar with the location and be able to come back to it," Cassidy Turley's Debra Wollens told The Observer. "It's an extremely public transit-accessible location."
Also, in a sublease deal last summer, part of the center's headquarters relocated to 25,858 square feet at 125 Park Avenue near Grand Central. The Park Avenue office now houses about 75 non-research staff and blood drive campaign members, but the sublease will expire in about in four years.
"We took a sublet from the Atlantic Philanthropies Foundation because it was a charitable tenant and they worked with us on very favorable pricing for the four-and-a-half year term," said David Lebenstein of Cassidy Turley, which represented the center in both leases (as well as a third recent one in Hartford, Conn.).
Mr. Lebenstein would not disclose taking rents for the three locations, but said asking rents for the deal at 125 Park were at about $60 per square foot, adding the rent was discounted because the New York Blood Center is a charity.
Asking rents for the Union Square area were in the mid-to-upper $40s, Ms. Wollens said.
pengel@observer.com