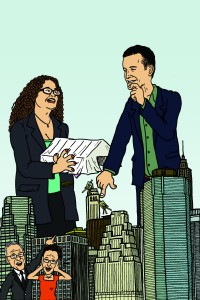 We've been pretty obsessed with all things Frieze ever since we anticipated the arrival of the London art fair in New York (the art world's so-called "worst kept secret"). Last week, Frieze Film, a series of artists' films presented alongside the fair in London this October, announced five new commissions by Ed Atkins, Lutz Bacher, Anthea Hamilton, Judith Hopf and Katarina Zdjelar. The commissions, aside from being screened in the Frieze Art Fair auditorium, will be previewed on Channel 4 the week of the fair.
Frieze has collaborated with Channel 4 since 2007 when they began screening the film commissions as part of the "3 Minute Wonder" program, which gives first time directors airtime during the weekday primetime schedule. This year, though, is different, according to a spokesperson. Under the current Head of Arts, Tabitha Jackson, Channel 4 has become more interested in commissioning work that uses television as a medium as opposed to just documentary programming about art. Take, for instance, the work of Mr. Atkins, a young artists only recently out of school. His film Death Mask I treats a digital camera depleted of celluloid as a dead body.
This year, Frieze Film will also launch its touring programme—yes, we spelled it the English way—that culls together a selection of short films commissioned by Frieze since 2005. The new initiative was developed with LUX, a London-based arts agency devoted to contemporary practice in the moving image.
See you in London!