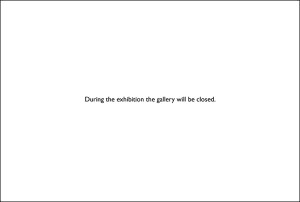 "We have without a doubt the greatest piece of conceptual art that was ever done in the world."
That was how Herb and Dorothy Vogel described Robert Barry's Closed Gallery, a 1969 piece consisting of three invitations to gallery shows in Amsterdam, Turin, and Los Angeles printed on simple white cards. They informed the recipients that during the exhibition, the gallery would be closed.
"I'm interested in how art dematerializes," said David Platzker of the ironically titled Specific Object in Chelsea, where Closed Gallery Redux is now "on display," at least as much as it ever could be. The gallery is closed for the duration of the show, until September 9. "It's the purest form of this notion of what the physicality of art is and what art is really all about. One doesn't need to even have the gallery space."
Mr. Platzker organizes what he calls "extravagant exhibitions" every summer—including a show of conceptual artist Lawrence Weiner's published work that's up now at Susan Inglett Gallery—but this one really surpasses them all. In art, what could be more extravagant than making the very space in which a work is displayed into a room with empty walls? Mr. Barry's piece even preempts the old question, "Is it art?" by offering an answer: apart from the invitation, not only is there no art, there is no gallery.
Naturally, some people were confused. Mr. Platzker sent out roughly 4000 announcement cards worldwide, each saying simply "During the exhibition the gallery will be closed." About 200 e-mails came back asking about gallery hours.
"I got permission from Robert [Barry] to do the show," Mr. Platzker said. "I asked him if he would lend me copies of the three prior announcement cards and he said, 'Why would you want them? There is no show. I don't want people to come to the gallery because the gallery is closed.'