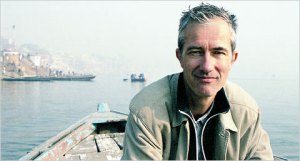 The literary criticism of art criticism in Geoff Dyer's debut column in The New York Times Book Review made our head spin.
The genre-defying English writer mounted a meta-takedown of the art historian Michael Fried. We didn't know the author of Absorption and Theatricality: Painting and Beholder in the Age of Diderot needed to be taken down, but who doesn't enjoy a clever opening shot in a literary feud? And Geoff Dyer, master of the binary statement and the unconventional sex scene (seriously, he has never met a sex scene that he didn't think would benefit from a little urination), is nothing if not clever.
Mr. Dyer begins by laying out the structure of his argument and what he plans to say in the first few paragraphs before explaining this is the very root of the problem he has with Mr. Fried's writing. "I kept wondering why an editor had not scribbled 'GET ON WITH IT!' in huge red letters on every page of the manuscript – and then I realized that the cumulative flimflam was the it!," Mr. Dyer wrote.
If his column is hard to follow and a bit dense, it is, therefore, not a reflection on the new columnist but on his subject. Hopefully, in the coming weeks, Mr. Dyer will take on more reader-friendly writers. Until then, we eagerly await Mr. Fried's imitation of Mr. Dyer's imitation.