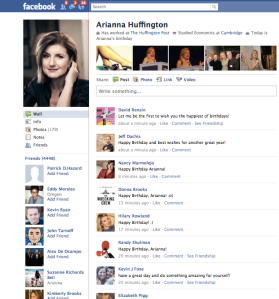 Today Arianna Huffington turns 61, one of her Facebook friends pointed out to us. So far, her sixties are treating her very well! We hope she's celebrating accordingly.
For those who want to commemorate the very good year, what does one buy the woman who reportedly made a cool hundred mil on the sale of the Huffington Post to AOL? You could fund Michele Bachman's presidential campaign–the tea party candidate's nomination would make 2012 a breeze for Huff Po bloggers. Or you could make her a coupon for one free hour of your web design consultation ("Less shouting!") Or start a fund to clone Sam Stein. Or you could tacitly promise to burn down the servers of all the AOL content sites she has to figure out how to make editorially respectable without sacrificing their massive traffic. Maybe they're insured! It could mean more sleep machines for the beleagured staff.
You should probably just send her a nice note–she's known to do the same for staff on their birthdays–but maybe not over Facebook. When her New Yorker profiler Lauren Collins tried, the invite bounced back. It said Arianna Huffington had too many friends.