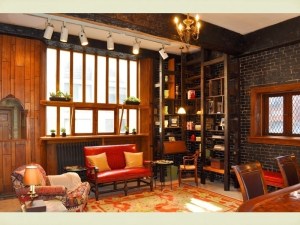 Apparently, the Dakota duplex will suffice for Harlan Coben and his family. As we reported in April, the author purchased a new pied-à-terre at  New York's famed Dakota co-op. Today city records show that the author just sold his other New York property, a one-bedroom apartment at 33 West 67th Street.
According to a listing from Stribling, the residence is Mr.  Coben's "writer's lair." Whether or not Mr. Coben will be able to find ample seclusion in his new 1,600-square-foot Dakota spread (with his wife and four children) remains to be seen.
The dark, brooding apartment on 67th Street has surely provided Mr. Coben with inspiration for his dark, brooding novels. Built in 1904, the flat is housed in New York's historic Atelier building—not to be confused with the glass midtown condo tower The Atelier—which has maintained much of its prewar gothic appeal, including a manned cage elevator. (This might be as good a time as any to add that Mr. Coben was fraternity brothers at Amherst with Da Vinci Code genius Dan Brown and childhood friends with New Jersey Governor Chris Christie, who sends his kids to private schools.)
With just one bedroom and one bathroom, and totaling 700 square feet, the apartment has an 11-foot, 4-inch ceiling crowning a nostalgic living room with a combination of wood-paneled and exposed brick walls. A leaded window adds to the intrigue. A brass bar, artfully topped with dark wood, dominates the kitchen and, according to the listing, makes the apartment both "an entertainer's delight and a cozy retreat." Hopefully the new residents aren't looking for a full chef's kitchen, as the scullery is contained entirely within the bar.
"The kitchen is the bar," explains  Jeffrey Rowe of Stribling, who represented the Cobens on the sale. "Under the bar is a sink, there's a dishwasher and a refrigerator. It's very cool; very speakeasy."
The bathroom has a porthole window.
Mr. Coben and his wife bought the apartment in 2007 for $690,000, and have sold the property for $745,000. The home was bought by one Herbert B. Shulman and wife Yona of Colt's Neck, N.J.