With the wrecking ball looming just a month down the line, crusty East Village liquor closet Mars Bar decided to throw in the towel for good after the Health Department shut the place for violations. There was a vigil, people are sad—and rightfully so, as there just aren't enough places in New York with the stink and stories of Mars Bar.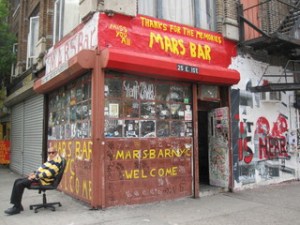 But what exactly were these violations? A Department of Health spokesperson told Runnin' Scared that the shutdown came about as a result of "approximately 850 fruit flies in various areas of the restaurant and in a bottle of alcohol." No doubt, that bottle was the ancient jug of Leroux Rock & Rye The Observer saw behind the bar a few weeks back. George, an old-timer who told us to go fuck ourselves, had taken a big swig of it a few days earlier.
Back to the official health violations—what, exactly, did the department find? EV Grieve alerted us to the report, and it's ugly. Let's take a look (emphases ours):
Sanitary Violations
1) Food Protection Certificate not held by supervisor of food operations.
2) Raw, cooked or prepared food is adulterated, contaminated, cross-contaminated, or not discarded in accordance with HACCP plan.
3) Filth flies or food/refuse/sewage-associated (FRSA) flies present in facility's food and/or non-food areas. Filth flies include house flies, little house flies, blow flies, bottle flies and flesh flies. Food/refuse/sewage-associated flies include fruit flies, drain flies and Phorid flies.
4) Facility not vermin proof. Harborage or conditions conducive to attracting vermin to the premises and/or allowing vermin to exist.
5) Non-food contact surface improperly constructed. Unacceptable material used. Non-food contact surface or equipment improperly maintained and/or not properly sealed, raised, spaced or movable to allow accessibility for cleaning on all sides, above and underneath the unit.
6) Proper sanitization not provided for utensil ware washing operation.
You really don't need to be a hired Health Department hand to figure out there's filth and vermin at Mars Bar, but now we've got the official reason for the closing. But, really, flesh flies? Horrifying stuff.
Full report is below. Click to enlarge, if that's your thing.