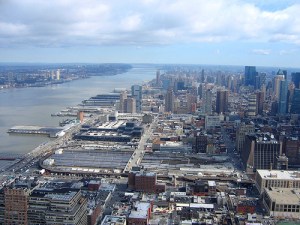 We tend to make fun of people for this sort of thing, but it's true—there's a major New York City neighborhood very much in need of a name. This is not some failed attempt at gentrifying outer Brooklyn or the points south in the Bronx (it's called Riverdale!). This is an honest-to-god neighborhood, or at least it's about to be one when it has all those towers dropped on its head.We're talking about the far West Side, as the area has been known, but that's more of a direction than a location. Even if it will be decades before Hudson Yards is fully formed, tons of development is already sprouting in the area—29th Street to 40th Street west of Eighth Avenue—so we need to figure out what to call it. Consider the unfortunate case of another otherwise lovely Journal story about the rise of shitty-chic hotels in New York:
A handful of these types of hotels have landed on the West Coast, but the trend is just hitting New York City. In addition to the Aloft Brooklyn, an Aloft opened in Harlem last year, a Yotel opened this year at 42nd Street and 10th Avenue and a Tryp by Wyndham is slated to open this fall in Hell's Kitchen.

[…]

The first American Tryp Hotel, a Spanish hotel chain recently acquired by Wyndham, is slated to open this fall on 35th Street between Ninth and Tenth avenues. The 173-room hotel was converted from a former industrial building, which was cheaper than building from scratch. The hotel has European design elements, including a lobby featuring barrel-vaulted ceilings, a breakfast bar and bunk beds in some of the rooms. Rates start at $259 a night.
Sounds great! Only problem is, 35th Street is most certainly not Hell's Kitchen. Nor is it the Garment District, a neighborhood itself in decline. The question is, what is it? And no, Steve, MiMA will not do.
Hudson Square has been taken by the smog-filled lofts surrounding the tunnel of the same name. Hudson Heights has a nice ring, and we've got lots of those in the city. In an homage to its chief benefactor, we could call this Related Land or even Ross World. Better yet, as a capstone to the mayor who made all this outsized development possible, how about Bloombergia? Borrowing from recent convention, we could go in for Hellsea. The Observer is partial to BeLTT: Between the Lincoln Tunnel and the Tracks. Certainly, our readers are more clever than us. Leave your ideas in the comments and your crack editors will choose a winner on Friday.