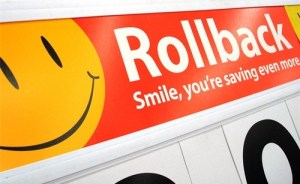 From the start, it seemed there was little anyone could do to keep Walmartasaurus from finally setting up shop in New York but hoot and holler. The big-box barons had already cracked other major metros by capitalizing on politicians' desperation during the downturn, and once it had hitched its wagon to the thoroughbred Steve Ross, one of the mayor's favorite developers, with a gift-wrapped project in far-out Brooklyn—without the need for City Council review, Walmart can avoid being thwarted as it was five years ago—the question became less if, and more when and how. New Yorkers are ambivalent about Walmart, but even Michelle Obama is on board.
"When" and "how" is still not entirely clear, but The Journal reports that Walmart, along with the unexpected suitor of J.C. Penny, are "in advanced lease negotiations" with Mr. Ross' Related Companies. Furthermore, the paper suggests its opponents are resigned to their fate.
Earlier this month, the company announced a $4 million donation to a New York City job program at a news conference with Mayor Michael Bloomberg. Wal-Mart also recently signed up as a $150,000 sponsor for a summer concert series hosted by Brooklyn Borough President Marty Markowitz that includes performances by such artists as Queen Latifah.
The sponsorship drew praise from Mr. Markowitz, who has been critical of Wal-Mart in the past. In a statement on Sunday, he said he isn't "philosophically" opposed to Wal-Mart, but declined to comment on Related's plans. He said he believes the retailer should pay "a fair wage" and allow workers to unionize.

The push seems to have created a sense of inevitability among many elected officials, particularly given that the company has said it only intends to take space in stores where City Council approval isn't necessary, making it difficult to block. Earlier this year, Wal-Mart also won some labor support by signing a five-year contract with the Building and Construction Trades Council of Greater New York that guarantees that any of the company's store construction would be done with union labor.
Related still has to purchase the site from the state, and it was revealed last week that the price had been cut in half, from  $32.5 million to $14.5 million, because of a lack of certain subsidies. Opponents are calling it a sweetheart deal, and it could be the opportunity they need to encircle the big box, but with so many powerful friends, it seems a big yellow smiley face is indeed looming over New York.