We knew the News International Parliamentary hearings would be a circus, but we did not expect a schlubby 26-year-old activist known as
Jonnie Marbles
to steal the show.
That's our bad, for not following him on Twitter.
"It is a far better thing that I do now than I have ever done before," he wrote, paraphrasing Charles Dickens minutes before throwing a pie in the face of Rupert Murdoch. (And receiving a smack down from his wife, Wendi Deng.)
As with most criminal acts, there were warning signs. On July 12, Jonathan May-Bowles, (Jonnie Marbles' real name) reached out to Marie X, the pseudonymous ex-News of the World reporter who tweets as ExNOTWjourno2.
"hey, can you follow me back?" he asked. "want to DM u about a project involving RB/RM"
Despite the conspiratorial tweet, Mr. May-Bowles appeared to have acted alone. An activist group he is involved with, UK Uncut, denied involvement.
Mr. Marbles had been monitoring Mr. Murdoch's dodgy journalistic practices and cozy relationships with 10 Downing Street since at least November 2009, when he published a post about The Sun called "Don't Look Directly At It" on his personal blog, Anarch*ish*.
"The transcript of a private telephone conversation between Prime Minister Gordon Brown and a bereaved housewife is breathtaking for all sorts of reasons," he wrote. "It throws up a huge number of questions. Why did the PM make the call? Was he advised to do it, or was this fiasco his idea? Was he actually intending to apologise? Did he feel guilty? Was it all a PR exercise? And whose first instinct, on being told they are being put through to the Prime Minister, is to reach for a tape recorder?"
Protesting the G-20 world economic summit in London in 2009, Mr. May-Bowles broadcast his phone number on Twitter, encouraging strangers to text him their sad or sexually explicit secrets, which he read aloud in Trafalgar Square, according to The Guardian.
"The effect was weirdly life-affirming," the paper reported.
In 2006, Mr. May-Bowles wrote a letter to the editor of the Independent about drug-related violence.
"It is time to take this industry out of the hands of violent thugs at home and abroad. Drugs must be legalised, regulated and fairly taxed. Maybe one day we'll even have Fair Trade Cocaine," he wrote.
Mr. May-Bowles is a graduate of Royal Holloway University, a conservative university in Southeast England. A former classmate contacted by Off the Record says he is unmarried but has a young child.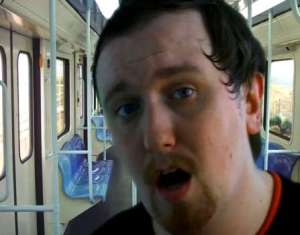 He also confirmed what YouTube evidence suggested: Mr. May-Bowles is trying to launch a career in stand-up comedy.
"I'm sure done this to carve out some degree of notoriety," the classmate said. He conceded that Mr. May-Bowles political motivations were nonethless authentic—he studied radical political theory and was involved in anti-war movements and opposed increases in student tuition fees.
"He was very, very unfunny," the source added, insisting that we refer to him as a classmate or acquaintance. "Please don't use the word friend."