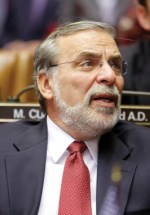 In a brief interview this morning, Borough Park Assemblyman Dov Hikind didn't sound like someone too enthusiastic about the candidacy of fellow Orthodox Jewish legislator David Weprin.
"I don't know who I'm going to support," he said of the Congressional race between Weprin and Republican Bob Turner to fill the seat left vacant by Anthony Weiner. "I do have a problem with David Weprin on a certain issue which I will talk about a lot more as we move on."
Hikind declined to discuss further what that "certain issue" is, but indicated that it was gay marriage, encouraging The Politicker to read the Orthodox newspaper Hamodia's editorials on the matter.
Hikind is a Democrat, but has occasionally crossed party lines to back Republicans. By reputation, Hikind remains a political player in Borough Park who can move votes, although there has been some talk that his power is on the wane, especially after he supported a rival to David Greenfield in a special election for a City Council seat, which Greenfield went on to win by a big margin.
Hikind had considered running for the seat as a Republican, and, according to rumors, had planned to make the race in the heavily-Jewish district a referendum on Obama's Israel policy.
"This is a district that is extremely committed to Israel," he said. "I want to support a candidate that is a great friend of Israel, not just in rhetoric but in action."