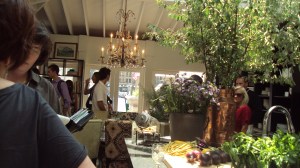 During a press lunch Monday afternoon, Food Network The Ultimate star and House Beautiful magazine columnist Tyler Florence mingled effortlessly with guests over cocktails and oven-baked pizza at the launch of House Beautiful's annual Kitchen of the Year expo. Florence and Kitchen of the Year interior designer Lori Yeomans, designed a rustically romantic lived-in Northern California-inspired kitchen, complete with Florence's own personal effects on the shelves.
"I'm always on," Florence told The Observer. "I don't take a moment of this for granted."
Overeager cater waiters refilled glasses of fresh squeezed lemonade, a bustling buffet line doled out Florence's signature sweets and vegan-friendly treats. While meticulously carving up a cured pig's leg, Florence mused on his craft.
"Nothing bums me out more than a dull knife," he said. "A dull knife means a dull chef."
This year marks House Beautiful's second time inviting a Food Network star as the headliner of Kitchen of the Year—in 2009 Barefoot Contessa designed the kitchen, and last year Jeff Lewis of Bravo's Flipping Out created a distinctly Los Angeles feel for the space. Florence has been writing for House Beautiful since February 2011.
Both Food Network magazine and House Beautiful are under the Hearst Publishing umbrella, but according to Newell Turner, editor-in-chief of House Beautiful,  Florence has no contractual allegiance to the magazine of the network that made him an culinary idol.
"There's no connection between House Beautiful and the Food Network Channel. I am a long-time fan of Tyler's. He's been on my radar for a long time, and when the column became open, I wanted him to fill it," said Turner.  Florence's monthly column, "Tyler's Kitchen", features family friendly recipes from the acclaimed gourmand.
After mingling with guests, and with a full schedule ahead of him, Florence deftly slipped out Rockefeller Plaza and into the throngs of pedestrians at 3:48, 12 minutes before the space opened up to the public.
Quickly and quietly, the smorgasbord was disbanded, waiters snatched up half empty glasses of Pinot, and the brick-oven pizza crew broke down their stations. "The public doesn't get lunch," laughed a media correspondent. "They only get to see a kitchen they can never afford."