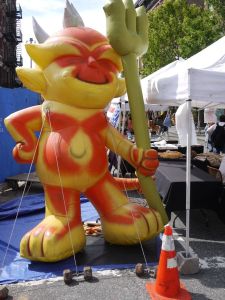 On Monday, in need of a name for the burgeoning neighborhood spanning 29th Street to 40th Street* west of Eighth Avenue, we put out a call to our dear readers for suggestions. Many of you pointed out that the area had a moniker already, namely Chelsea or Hell's Kitchen, with a typical boundary of 34th Street. One commenter, CB4, gave a particularly strong defense of the latter:
Matt Chaban is also wrong. Hell's Kitchen goes to 34th these days. Below 42nd it's often called Hell's Kitchen South. Clinton has been the real name of HK for over 100 years (after Dewitt Clinton). The real estate industry often claims the area was named Clinton as a result of the Capeman slayings in 1959 in an effort to make the area more palatable. But that's not true.

The historical "center" of HK is seen by many to be on 39th St., mostly by anecdotal evidence, and the HK neighborhood over the years has seen boundaries as far south as 23rd St. and cutting off on 52nd St. But those were boundaries are mostly from the 1800′s.
Sure, alright, fair enough. But that's also not the point. The East Village, Morningside Heights, FiDi, ProCro—all had names before these, and while they have varying degrees of utility—legit neighborhood, butt of joke, etc.—that did not stop them from being renamed. So it goes with this area. It needs a name because people are not sure what to call it. If there were utter consensus that this was Hell's Kitchen, typically thought of as a gay-friendly, brownstone-lined area with good eateries, then this article would not exist.
So, to the names. Among those we received were many that played on extant ones. HuYa came from the folks at Stribling; a reader suggested HiLi for the High Line; and SoKi for South Kitchen, as well as one of our favorites, Hell's Pantry. (Reminds us of Hell's Foyer.) There were the slightly more obscure, too—one from a commentor who gave us East West New York and HeliCompton, which we didn't quite get. Ditto BalleTown. Then there was our favorite, Jersey Barrier City.
Still, unconvinced that would stick and hitting upon the current vogue for mash-ups and (hopefully) soothing the Chelsea and Hell's Kitchen's partisans, we settled, through an office straw poll, on Hellsea. It encompasses the grit and glamor of both and hopefully keeps everyone happy. Now how to get it picked up on Craigslist?
(*A mistake that probably caused some confusion was the boundaries of the neighborhood. We originally wrote West 29th to West 30th streets, when what we meant to say was West 40th Street.)