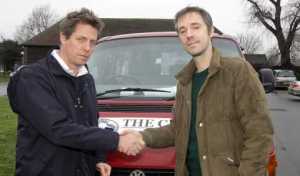 Remember when this snap of Hugh Grant, his broken down car and an ex-News of the World reporter who gave him a lift seemed merely photograph evidence of the funniest little anecdote to come out of English countryside?
The event wound up leading to a crucial break in the News of the World phone hacking scandal. Mr. Grant later went undercover (as undercover as a celebrity can) to reporter Paul McMullen's pub, stealth recorder-pen in hand, to make him dish on the phone hacking tactics he'd "boasted" about during their cruise, according to a video on BBC.
Mr. Grant found out that The News of the World hacking scandal was far more insidious than celebrity snooping. As it is revealed that the paper hacked the phones of a missing 13 year-old girl and the families of dead soldiers, he (with a likely vendetta from his own tabloid scandal) has become a vocal critic of Rupert Murdoch's papers and their alleged bribery of police and politicians.
"Margaret Thatcher was the first prime minister to realize that it's very hard to get elected in this country without the backing of the Murdoch press," Mr. Grant told the BBC.
"So she was the first one to become an undignified sycophant to that media tycoon, a path that has been followed by every Prime Minister since, including this one," he said.
Mr. McMullan was on hand to defend journalism and prove that British tabloid reporters really are that salty and amoral.
"Two pints of spit fire cost six quid," Mr. McMullan responded, "you owe me six quid."
"He didn't pay for his beer. Apart from that it was fine."
Celebrity entitlement horrifies us too, Paul.