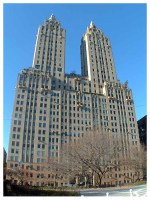 Recent notable deals in Manhattan real estate:
Florida couple David and Francie Horvitz have purchased an apartment in the Eldorado at 300 Central Park West for $8.45 million. The property was picked up in 2009 for $6 million by Philip Marder. Corcoran agent Daniel Douglas claims that the Horvitzs will be able to "Savor the finest views in Manhattan (if not in all 'Earth's Kingdoms')" from their new home.
Plastic surgeon (and buttock-augmentation specialist) Douglas Senderoff has sold his apartment at 200 Chambers Street for $2.7 million. The 1,673-square-foot home was purchased by Xiao Wu and Zhe Liu. The good doctor lists his current address as the penthouse at 30 Park Avenue, a rental which has previously been listed for $7,950 per month.
Actor Michael Gaston and wife, Shakespearean scholar Liza Henderson, have sold their West Village co-op for a cool $1.03 million. The couple currently live on a farm in Wallkill, N.Y., where, according to a 2003 New York Times article, they enjoy being out of the city. There's no turning back now that their former New York pied-a-terre at 45 Perry Street officially belongs to buyers Evangelos Vergitis and Melanie S. Francis.
eknutsen@observer.com