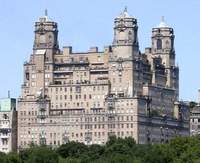 Recent notable deals in Manhattan real estate:
The Trust of Ruth J. Hauser has just sold her apartment at The Beresford for $2.9 million. Ms. Hauser, who died last year, and her late husband Maxwell Hauser endowed the Mt. Sinai Medical Department of Surgery. A couple from Santa Monica, William Levinson and Linda Fayne Levinson, purchased the apartment. Ms. Levinson, now an executive at Jacobs Engineering Group, was the first female partner at McKinsey & Company.
Peter S. Heller, a former deputy director at the IMF and international financial policy adviser, has purchased a new apartment at The Ardsley co-op on the Upper West Side. Re-listed in April for $1.150 million, the self-described "expert on fiscal policy" paid $1.153 million for the two-bedroom, two-bath spread. Mr. Heller purchased the apartment at 320 Central Park West from the estate of recently deceased scholar of English literature, Vineta Colby.