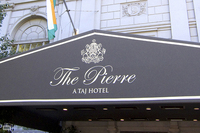 The most recent notable deals in Manhattan real estate:
Visiting Princeton finance professor Jean Christophe de Swaan just bought a new home at 20 East 74th Street. Originally listed by Coccoran in 2008 for $3.65 million, the property entered contract in 2009, but was re-listed just weeks later by Brown Harris Stevens for $2.25 million. Mr. De Swaan proved his financial prowess by paying just $2.01 million for the deluxe duplex.
The estate of Carol K. Pforzheimer, the recently deceased philanthropist and educational advocate, has just sold her apartment at The Pierre Hotel for $4.38 million. Pforzheimer died at the age of 100, and was the widow of Carl Pforzheimer Jr., a bibliophilic businessman whose personal collection included a Guttenberg Bible.  The property was purchased by an LLC based in Florida.
The family of Dorothy Lyon, widow of former Philip Morris CEO Alfred Lyon, recently sold her Sutton Place apartment for $1.35 million. The home, located in an Emery Roth-designed co-op at 2 Sutton Place, was put on the market for the same price last December.  The two-bedroom, two-bath apartment was purchased by a Mary Kush of Mantoloking, N.J.
Aaron and Ayla Wilhelm, who made waves with one of the original crazy wedding dance video, just bought a home for $1.98 million. That's slightly more than the 1,398,714 people who have watched the video of their first dance on YouTube. The 1,800-square-foot Tribeca loft is located at 45 Lispenard Street. They bought the new pad from Henry C. Kendall and his wife Joan Krevlin, a well-known architect and founding partner at BKSK Architects LLP.