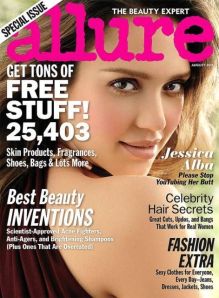 Today, Conde Nast's "beauty experts" at Allure magazine launched a partnership with e-commerce sites BeautyBar.com and Soap.com, ensuring that you will never again have to wait more than 48 hours for your anti-wrinkle cream or liquid eyeliner.
Or perhaps you don't think you need any make-up? Allure will solve that problem, too, with the new Beauty Product Finder, also launching today.
"It prompts you to answer certain questions about your skin type, your objectives, your make up style, skin color and all the details about your hair," editor in chief Linda Wells explained.
"Once you answer these questions it recommends products that are appropriate for you and you alone," she said, "unless you're a twin."
It's like a Choose Your Own Adventure of insecurity! But now Allure delivers, too, so you don't have to show your face at the Clinique counter.
"This is pretty much the fastest you can get products shipped to your door," said Quidsi spokesperson Lauren Lloyd. Quidsi is the parent company of quick ship e-tailers BeautyBar.com and Soap.com, whose advertisements were recently all over the F train.
"It was important to us to respect the experience of the reader, looking for information and looking to discover new products," said Christina Carbonell, Quidsi vice president. And according to Ms. Wells, few online retailers can offer "the authority and the reporting that is involved in an Allure story."
"We try everything ourselves," Ms. Wells said.
Really? There are some 4,000 products in their now-shoppable makeup database.
Yes, Ms. Wells assured us, the Allure staff are guinea pigs even for the home hair dye and bikini wax kits.
"We used to have a person here," Ms. Wells remembered, "and I felt like I needed to promote her because she tried out a perm-ing treatment."
Offered Allure manager of digital content Marie Jones, "I'm sporting orange finger nails and one self-tanned hand."