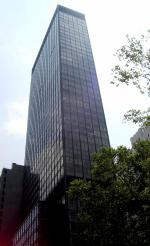 MacMillan Holdings, a book publisher with a stable of authors that includes Edward Abbey and soon-to-be New York Times executive editor Jill Abramson, has signed a two-year sublease at 41 Madison Avenue, The Observer has learned.
The deal, with asking rents in the mid-$40s a square foot and a three-year renewal option, will allow the publishing company to expand by 14,052 square feet to a grand total of 56,000 during its time of growth in an otherwise shrinking industry.
In addition to its new office space on the 29th floor, which is being subleased from Stillwater Capital Markets, MacMillan now leases space on floors 35, 37 and 38 of the trophy tower, brokers said.
Leon Manoff of Colliers International represented MacMillan Holdings in the deal, while Jack Cohen, also of Colliers International, represented Stillwater Capital.
"MacMillan Holdings is expanding and wanted to remain in the building, a premier office location with tremendous lights and views," Mr. Manoff said. "They are in growth mode and wanted to expand their operations at this location."
jsederstrom@observer.com