It's been a while since we heard from Julia Allison–the hyperconfessional onetime princess of the Gawker-made "fameball" set, whose antics were brought to light, at a granular pace, on Gawker, and comprehensively in Vanessa Grigoriadis's New York article on web-era cynicism. The social-media socialite, famed for her writing on sex and relationships as well as for her woman-about-town presence at media parties, now has a syndicated newspaper column, which she promoted in an interview with Forbes.
Therein, she's asked whether people would react so strongly to her brand of photogenic puff-stories if she were a man. Ms. Allison said that she writes about her personal life less than did George Gurley, former Observer staff writer and beleaguered fiancé to "Hilly."
"He wrote years of columns, including transcripts of his couples therapy sessions with his girlfriend," said Ms. Allison, who implies that she does, or did, sort of, kind of the same thing.
We came up with a little quiz: Here are excerpts from Ms. Allison's Time Out New York writings between 2007 and 2009 and Mr. Gurley's New York Observer writings from the same period. Can you tell the two personal essayists apart? The answers lie in the links!
1. "Last week, I was at a party at the sophisticated Le Cirque restaurant on East 58th Street street for the HBO documentary Le Cirque: A Table in Heaven. I asked fabled Le Cirque owner Sirio Maccioni, a very elegant man who smelled great, what happens when his beautiful wife of 38 years, Egidiana, sees hot women all over him?"
2. "When I first got my shih tzu, Lilly, I couldn't walk her without making people gush—so much so that eventually I refused to make eye contact, lest I never reach my destination. And when my ex–fiancé took her out? Mob scene."
3. "Ms. Mosbacher squealed at the sight of her friend Carl Bernstein and after they caught up, we asked the legendary investigative journalist what animal he most resembled.
"Cats!" he said. "I have a cat and I talk to her all day. She gets up on my keyboard and types. I'm independent like a cat."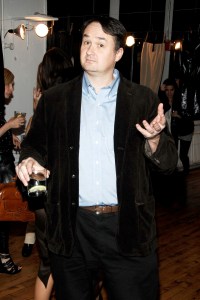 4. "Every once in a while, stay up all night talking and kissing, instead of thinking, What the eff time is it? I gotta get some sleep. Romeo and Juliet would so not go to bed."
5. "DR. SELMAN: Did you actually ask her to marry you?
[REDACTED]: I don't think it even got to—I think she was so excited. One thing I like to clarify is that the prank Verdura gift box—I wasn't trying to torment her. I had the other one, the real one, right on my lap, ready."
6. "Now, my theme song's no longer 'Express Yourself'; it's more like 'Hold On.' I wait for him to say it first, though I've been known to throw out stealth versions to surface the emotion ("I love you…when you smile/when you laugh/when you're awake!")."
7. [Quoting Ann Coulter] "What are her thoughts on feminism? 'This whole feminist movement has nothing to do with women. Until Bill Clinton, if a 70-year-old boss called his 60-year-old secretary "honey," they'd be screaming about white male patriarchal oppression.'"
8. "Holy crap—am I talking about Sex and the City with my grandmother?!"
ddaddario@observer.com :: @DPD_