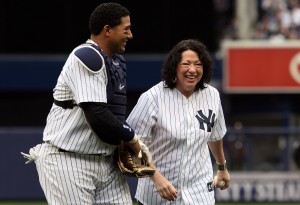 Ever elusive as they are, the Supreme Court's public persona is minimal at best, let alone sightings of them outside of the courtroom doing Regular Person Things. It's one of many reasons why today's Page Six item about Sonia Sotomayor is particularly wonderful:
Not only was Justice Sotomayor sighted out and about in the West Village—trendy, not-stodgy, even-less-so-magisterial neighborhood that it is, where she lives—but she was seen discussion a crucial issue pertinent to the lives of the rest of the human population, delivering a unilateral, unambiguous verdict on it: grilled chicken.
We spotted the Bronx-born legal eagle and a blond woman friend in a heated discussion Tuesday night over how to prepare a chicken as they strolled along Bedford Street, near Sotomayor's West Village condo. "You need to place the chicken on the grill," Sotomayor's friend was adamantly insisting. But the argument didn't hold water with the judge, who shook her head and clearly objected. Instead, Sotomayor offered an alternate way to grill a bird. They then wandered off, perhaps to debate the finer points of marinade.
A decidedly liberal take on the matter. Maybe she opts for the beer can method? Most impressively: Page Six can spot Sonia Sotomayor? Bragging rights, indeed.
fkamer@observer.com | @weareyourfek