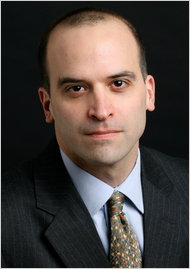 In something of a surprise move, David Leonhardt will be named The New York Times' D.C. bureau chief today, according to Mike Allen's morning email.
Leonhardt currently writes the "Economic Scene" column for the paper, and, at 38 years old, he hurdles a handful of older hands — like Maureen Dowd and Carl Hulse — in the bureau. Leonhardt is a favorite of Arthur Sulzberger Jr., according to Allen, and his selection represents an attempt to cultivate a younger generation by the incoming executive editor, Jill Abramson, who will visit the bureau today to announce the appointment.
Leonhardt won a Pulitzer in April for his weekly economic column, and his ascension would seem to reflect a shift toward business and economic reporting.
The outgoing chief, Dean Baquet, is headed to Washington New York to succeed Abramson as  managing editor.