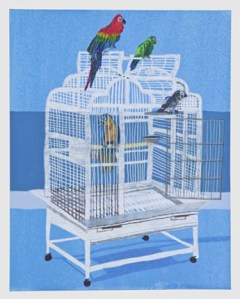 Art dealers on both coasts sent out emails today announcing additions to their artist stables.
First out the gate: Los Angeles's David Kordansky Gallery. Mr. Kordansky's early morning blast had news that he'd signed painter Jonas Wood. Mr. Wood had a solo show last year at LA's Hammer Museum, and  was recently the subject of an exhibition at his New York gallery, Anton Kern. His work was also included in last month's Soho group show "Greater LA."
The afternoon brought news that Chelsea gallerist Friedrich Petzel has brought on painter Dana Schutz, long one of the most prominent artists in the stable of Petzel's younger neighbor across 22nd Street, Zach Feuer.
Artists appear to be moving around with increasing frequency these days; expect more news soon.